Fertilization & Weed Control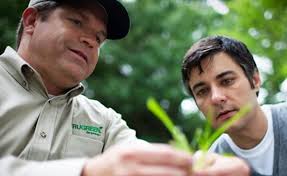 We take the guess work out of  having a beautiful lawn! Turf-grasses in Mississippi have specific needs based on the grass type, soil and other conditions. Regular feeding and weed management allows your turf investment to reach its full potential.
Thick, healthy grass discourages weed penetration, making them easier to control year after year
Proactive turf assessments helps identify potential issues before they become costly problems
Licensed and trained lawn specialists care for your property.
 Our lawn care program consist of 7 treatments per year including:
* Balanced, seasonally-timed nutrition keeps your turf green and better able to resist stress, 
* Broadleaf Weed Control- Prevent, eliminate and manage the spread of most weeds
* Crabgrass Control (with pre-emergents only)
* Poa Annua Control (with pre-emergents only)
* Nutsedge Control
* FREE Service Calls between regular visits available for full program customers. If you ever notice a problem with your lawn between applications, simply call us at 601-582-5296 or click "Free Service Call Request" on the front page. We will re-apply the necessary materials to correct the problem, or recommend additional optional services and/or procedures to resolve the issue.
* No Contracts! We want you to be happy with the results. If you are ever need to stop service, simply call or write our office to cancel service.
With more than 40 years of research and development, plus a nationwide network of more than 25,000 lawn care professionals, no other lawn care company can match our experience, cutting-edge products or resources.